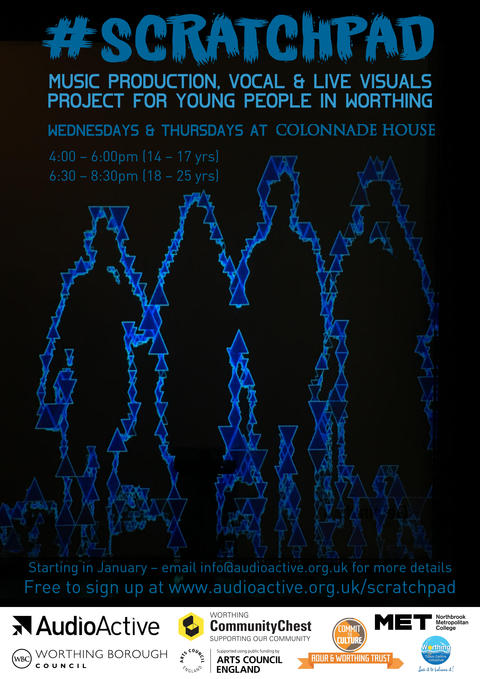 Sign up for your free space HERE
Make beats, write lyrics, create tracks to accompany live visuals
Scratchpad is a new project coming to Worthing soon. Look out for taster sessions coming to Fishersgate, Worthing and Shoreham soon.
Colonnade House is Worthing's creative hub and will be transformed for #Scratchpad into a video installation and listening booth by As Described, who create live visuals for bands including Beardyman, Portishead, The Bays and the Heritage Orchestra.
AudioActive will have DJ's and Music Producers on site to make music to accompany the visuals.

Scratchpad will be in residence at Colonnade House, Worthing for six weeks from 15th January 2018 with sessions on Wednesdays and Thursdays – 4.00-6pm for 14-18 year olds and 6.30 – 8.30pm for 19-25 year olds. While participants are working on their music they can also develop their visual identity and create performance visuals, and people will be able to hear and see the work in progress as they pass Colonnade House.
In March and April there will also be opportunities for performances in outdoor locations and venues in Worthing, plus a music industry day bringing venues, producers and musicians together to kickstart Worthing's live music scene.