B
a

sic St

a

nd

a

rds: Mixt

a

pe L

a

unch

News
Standard Bearers
Announcing AudioActive's inaugural mixtape, Basic Standards, which was launched on Tuesday 17th December at Kustom Vibes at the Rose Hill Tavern, Brighton
Whether it's verbalising school life from the back of the class, punk-hop rants against social inequality or starry-eyed soulscapes, time's come for Basic Standards.
Brighton, Worthing, Hastings, Battle, Eastbourne… The rising swell of urban sounds emanating from the coast is fixing to break in 2020 – and Basic Standards plants a flag. It's a league of talent that is surfacing with the help of AudioActive's many collaborative projects. Theirs is a currency of ideas, traded and fertilised within the walls of the Bottega Rooms studios, and streamlined via life-changing initiatives such as Equaliser, Room To Rant and Emerge. And when the alchemy is complete, our monthly showcase night, Kustom Vibes, provides the platform from which these artists can break out on their own terms.
Which brings us to Basic Standards. AudioActive's substantial first mixtape marks a definitive point in the journey of those that it has helped to guide, presenting some of the finest tracks made thus far. Beyond the music, Basic Standards represents an ethos of kinship, collaboration and authenticity, the lifeblood of the south-coast scene.
The tape's been curated by a panel of industry professionals that – for once – actually mean something to the artists involved. Genuine believers such as Fliptrix (The Four Owls/High Focus Records), Pav a.k.a Vulgatron (Foreign Beggars) and Ellie Sabine-Singh (MTV) have put heart and soul into young artists and their development, and all are strong supporters of AudioActive's work. For the young artists themselves, it's kudos from trusted voices that cut through the noise.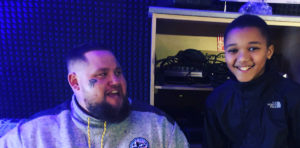 Right across the various projects there's creative cross-pollination taking place too – with some truly thrilling results. Take super-talented young gun Sané, the 13-year-old schoolboy rapper who's track gave this collection its name. The track was produced by Connor Budd (a.k.a. HUSK¥), himself a long-term alumni of AudioActive. The magic come full circle: Connor began his own journey at a similar age and is now mentoring workshops. 
To get further into the mindset of these catalytic connections, take in the sounds of AudioActive regular Donaghy, who's woozy flow on the contagious Hit The Deck lights up the tape. From the ranks of the Yert Collective comes Para Fiction's hustling No Comment, repping a punk-hop outfit that's seriously bubbling up right now; and Brighton rhymer Dereck D.A.C, who drops the fluttering offset boom-bap loops of Cheesy, a moreish taster from an effervescent and varied collection that delivers across the board.
Elsewhere, the set houses prime cuts from tipped artists such as Mia Blankson who's flourished, rising through the ranks of AudioActive's all-female music production workshop, Equaliser. It was tracks such as On The Line – featured on the mixtape – that led to her being headhunted to perform at last year's Great Escape festival. Another beneficiary of Equaliser, and an ever-present face across several other workshops, is Casper, who's slow-step opus These Words offers a sublime laid back highlight. 
From here AudioActive plan a series of regular mixtapes, and on the strength of Basic Standards, there'll be plenty more to shout about.
AudioActive launched Basic Standards at Kustom Vibes at the Rose Hill Tavern on 17th December.
Listen here (Warning: explicit language):