G
a

ME CH

a

NGERS #2: Miri FLC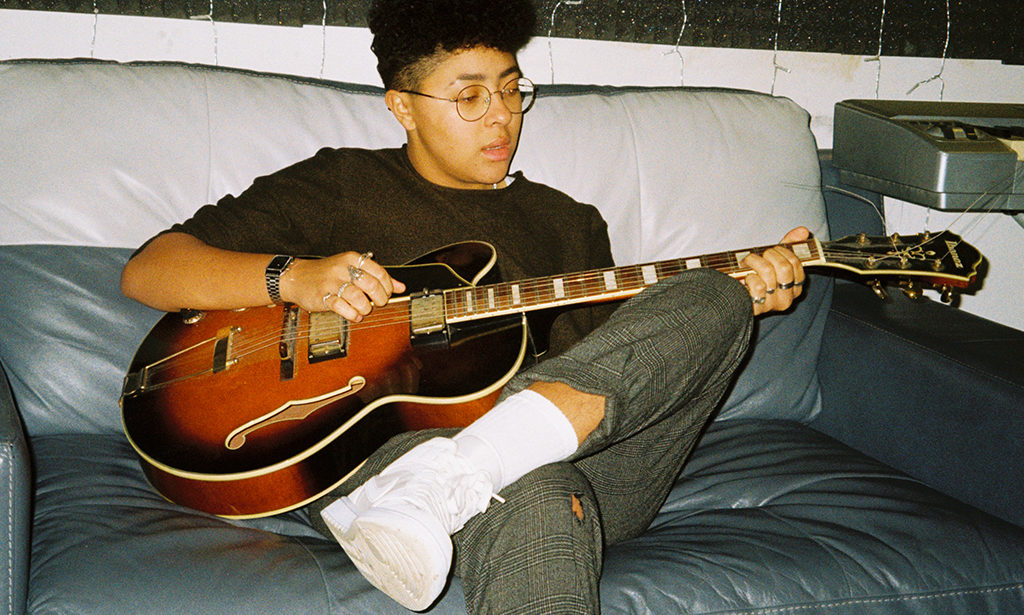 News
Continuing our Game Changers series, we have an interview with Miri FLC, as the Brighton artist gives us her perspective on life in Brighton as a Person of Colour.
At 17-years-old, Miri has already gigged across Sussex and in the summer of 2020, could be heard speaking in front of thousands at The Level, as part of Brighton's Black Lives Matter protests. She told us about growing up in Brighton, the preconceptions people have about her and how it feels to have a new-found Black community around her.
First things first, could you introduce yourself in your own words?
I'm Miri FLC, I'm a musician and… a college student I guess? That's kind of it.
---
---
What was your experience like growing up in Brighton?
I've loved growing up here because Brighton is a very fun and lovely place to grow up. It's big, but it's also really small. You always know people everywhere. But it's not the most racially diverse place. I think people always say it's so diverse and that's true in terms of LGBTQ+, which is so great. But the other part of me is like, I don't see people that look like me. It's difficult, but it's good.
What role models have you had to look up to in the city?
'I definitely would say Mrisi. So cool and so talented, my parents knew him before I did. Seeing all the things that he has done and is still doing is inspiring. Also, seeing Normanton Street play. I remember seeing them when I was younger so, knowing the guys now is something really cool for me. I'm also really close with Phonetic. She's the best, especially as we're both gay and both mixed. It's really nice to have someone to talk to who is that similar to me – I didn't have that at school or growing up.
During the Black Lives Matter marches in Brighton this year, many people saw you stand up and share your experiences of growing up in Brighton as a Person of Colour. Tell us a little more about those protests…
That was crazy. I think I spoke at two or three of the BLM marches. Being around really good influences and people who make me feel so safe was special. Those marches were so emotional. You're there because you're fighting for something that's important, but to be surrounded by so many People of Colour at once is amazing. I've never had a community around me that's solely POC before and I've got one now.
I don't how I did the speeches. There was one where there was so many. People there. I was like shaking, but anytime I thought about the fact I was shaking I'd probably mess up so I had to just keep going.
---
https://www.instagram.com/tv/CBdyYoegoA8/?utm_source=ig_web_copy_link
---
One thing you spoke about in your BLM speech was the preconceptions people can often make about you and your music…
The one that always makes me laugh is that in music, some people just immediately assume that I do rap or grime or whatever. Which is funny because, I play drums, piano, guitar and I sing.
I write slow, sad love songs… so that preconception always makes me laugh.
You're a regular at Equaliser, AudioActive's all-female music production sessions. What keeps you coming back each week?
I've been going for a while, most of this year. It's weird because I've been doing some work with everyone at Equaliser for so long that it feels like I've been going forever. I love that it's such a supportive environment and that everyone is so nice. There aren't many production experiences and opportunities for me that are all female, they are normally male-driven. Which is fine, but it can be intimidating – especially as I'm not that good at production, I find it really hard.
What projects have you got ongoing at the moment?
It's crazy at the moment. I'm getting asked to do a lot of stuff related to race, It's cool that more projects are opening up to talking about it. It's kind of weird, I haven't had an influx of work like this before.
I'm doing a documentary with Marlborough Productions at the moment about LGBTQ+ POC, and talking to the older generation. That's been so cool. I've been talking to a guy called Mark who is in his sixties and hearing about his experiences, being a black guy in the AIDs crisis, it's so interesting.
I've been lucky to do some stuff with Aflo the Poet as well who is amazing. She's so inclusive and is always asking me to do stuff, which I'm really thankful for.
---
https://www.instagram.com/p/CGUnNxBBh1d/?utm_source=ig_web_copy_link
---
And finally, you recently played at our Kustom Vibes event and you've played all over Sussex. But what's your best gigging experience so far?
It's weird with Covid-19 at the moment, I wish there could be more stuff going on. I'm excited for May to come around, I miss gigging and playing live. I've been playing gigs around Brighton since I was 14, but I still get very anxious so I want to practice I'm eager to get back in.
One of my biggest gigs was a church in Worthing – it was around 250 people and I was so scared. Also, festivals like Tarner Festival, I looked into the crowd and Rag 'n' Bone Man was there. I was like, oh, okay… now I really have to play well. I was kind of fine beforehand and then I saw him and I was so nervous. I tried not to look at him but he was the front, in the middle… I couldn't really miss him. But he's lovely so it's okay.
---
Follow Miri FLC on Instagram and Soundcloud
Read our previous Game Changers interview with Bobby Brown here