Refugee Week: How to get involved in Brighton
a

nd beyond…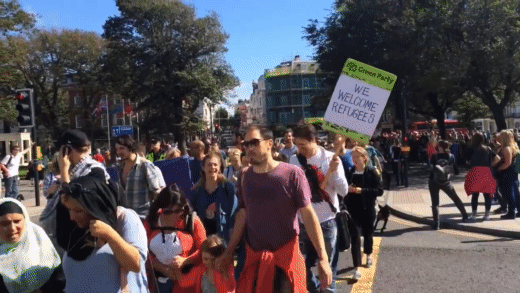 News
Refugee Week runs from June 15th, a UK-wide festival that celebrates the contributions, creativity and resilience of refugees.
Eye-opening and often inspiring stories can be found right across the festival and we wanted to highlight some ways to get involved from home. Using art, community, culture and education to do so, there are some likeminded charities in Brighton & Hove and the surrounding areas that provide support for refugees all year round. Here are some organisations to check out and some activities happening this week.
The Hummingbird Project
The Hummingbird Project is a revered organisation in Brighton, recognised for their ongoing work with supporting refugees in the area. Their movement began in 2015 when now team members were volunteering in Calais and Dunkirk. Shocked by the poor living conditions in Refugee Camps, they set up a 'Safe Space' on-site and continued collecting donations from Brighton to Calais. 
https://www.instagram.com/p/CBV6T98nGTG/
Having left camps in 2016, the small team behind The Hummingbird Project returned to Brighton, determined to continue their good work and they do just that, running the likes of the Global Social Club every Monday for young people around the city to meet others from across the world. Learn more about Global Social Club Hummingbird's commitments during lockdown, here.
---
Voices in Exile
Set up back in 2005, Voices in Exile is a long-running charity and organisation that offers practical support and legal advice for refugees and vulnerable migrants in Brighton and Sussex. Like the Hummingbird Project, their work has been vital within the city's reaction to the EU Migrant Crisis of 2015 and 2016.
From their weekly drop-in sessions for people seeking advice to their work collecting for food banks, Voices in Exile's tireless efforts do not go unnoticed and even through COVID-19, they have been a reliable voice on asylum support, housing, homelessness and immigration in Brighton and beyond. Open to donations of various sizes that could help clients travel to meetings or, eventually, help to register a child as a British citizen, there is plenty of information available on their website.
---
Refugee Radio on RadioReverb
Brighton radio station RadioReverb have been airing Refugee Radio with the human rights charity of the same name. Giving a platform to the voices of refugees themselves, the radio shows are a unique opportunity to be able to hear first-hand the stories and life experiences of these inspiring people.
Musical choices come from across the world in eclectic broadcasts that marry storytelling and music perfectly. You can find out the full schedule for Refugee Radio on RadioReverb's website and tune in on 97.2FM.